Hear the siren song that calls you to
Tunisia
. This hospitable land of colors and contrasts, spices and scents invites you to enjoy its natural beauty, ancient cities, lively festivals and warm friendliness of its people. Welcoming visitors to its shores has long been an honored Tunisian tradition and an impressive infrastructure of modern hotels, restaurants, international airports, tourism offices and information centers has been developped to add to our guests comfort and pleasure.
Whatever the season, your first glimpse of Tunisia will be one of golden beaches and a deep blue sea. With over 1200 kilometers of coast this sunny Mediterranean land is a paradise for the vacationer.
Well known seaside resort areas - Monastir, Sousse,
Hammamet
and Nabeul, Djerba and Tabarka offer their visitors the finest sand beaches and crystalline water along with a dizzying choice of waterfront hotels featuring sun and sea sports as windsurfing and sailing, underwater sightseeing, fishing and short boat rides.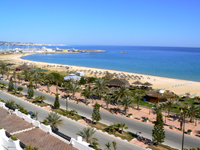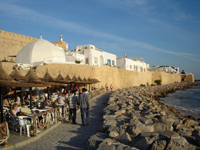 Nearly Hotels are built with the visitor's comfort and enjoyment in mind and their restaurants feature both international as well as Tunisian Cuisine. During the peak summer season no effort is spared to provide the maximum of activities at the hotel and throughout the region .Summer festivals held nearby invite you join in with your Tunisian hosts to celebrate Father Neptune, share their local folklore, enjoy a concert or or just have fun.
The long and diversified history of Tunisia is displayed through its statues, bronzes, pottery and mosaics exposed in museums located at several archeological sites. From the prestigious Bardo Museum to the modest on-site selection, each brings to the visitor a particular vision of this country's rich historical heritage.
Of particular interest by period are the following sites and museums:
Prehistoric: Bardo (Tunis), Gafsa Museum , Metlaoui, regions of El Kef, Makthar. Berber: Chennini, Tataouine, Tamerza, Matamata. Punic: Kerkouane, Carthage Museum, Bardo , Utica, Salammbo Punic Ports. Roman: Carthage, Carthage Museum, Sousse Museum, Dougga, El Jem and its Museum, Bardo Museum, Bulla Regia and its Museum, Tabarka and its Museum.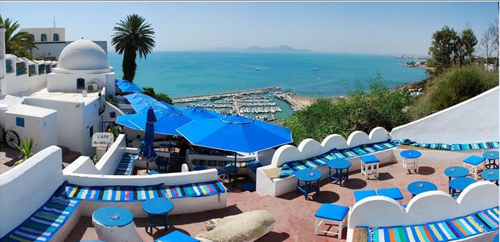 Islamic: Kairouan, Raqqada Museum, Bardo Museum, Monastir and its Museum, Sousse Ribat and its Museum, Mahdia, Tozeur and its Museum, Tourbet Bey Tunis. Traditional Arts: Dar Abdallah Tunis, Tozeur Museum, Le Kef Museum, Monastir Museum Jerba: The Griba synagogue presumed 6th century BC (Fall of Jerusalem to Babylonians).